---
---


Many with mild or moderate hearing loss will not wake to typical smoke alarms. The Loudenlow™ Alarm is superior at waking people during a fire because of its power and low frequency.

Battery powered, no wiring, extremely powerful audio alert.

Is your home already interconnected?


---
~ Simple wall mount, no house wiring.
~ Uses standard AA batteries.
~ No FM transmitters needed.
~ User friendly, ready "out of box".
~ Free audio sample available.
"The alarm works great. My son is HOH and in his first apartment at college and the alarm really sets my mind at ease. He tends to sleep with covers over his head so I had reservations about the strobe lights. Thanks so much for making this available."
-- Kaari S.
The Loudenlow™ is a louder, low frequency smoke detector which is easier to hear.
USES ONBOARD, 6-INCH SPEAKER

Note, more recent models (2009) are Aluminum
---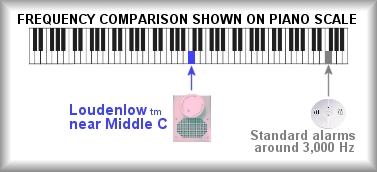 ORDER HERE
---



Interested in AC/DC hardwired interconnected (low frequency) smoke detectors? Contact us for pricing & availability of our soon-to-be-released models. (Generally requires expert installation. Works with FireX™ interconnected systems; transmits/receives 9VDC over Yellow & Neutral lines.)





---
We Ship
Internationally